"DAB Graphics believe that interpretation boards should not only be informative but also attractive and eye-catching to the visitor."
DAB Graphics in-house studio creates all the artwork and illustrations specifically to suit your needs for interpretation boards, working closely with you to understand your specific requirements in order to get your message across clearly and accurately.
Weather its history or heritage interpretation boards, wildlife or environmental, woodlands or pond life we are confident we can provide everything you can ask for. With extensive and expanding wildlife illustration and photography libraries to assist the wildlife awareness or we can produce specific illustration to suit your project.
You may also want to look at:
We also have a large selection of Habitat Panels, which can be a cost-effective way of producing wildlife interpretation panels with a common theme, with new titles being designed and created regularly. We have produced many types of interpretation signs for many different locations such as Village Greens, Nature Parks and Reserves, City Centres to Coastal Paths.
In order to present your interpretation panel in the best possible way and keep them looking their best for as long as possible we offer a range of panel materials which include printed Aluminium – DuraPanel, GRP – Fibreglass, Acrylic as well as ACM (Dibond) all to suit different budgets and locations. DuraPanel and GRP are both hard-wearing, very durable and come with a 10-year warranty against UV fading, making them ideal for coastal and other exposed environments, plus having high anti-graffiti resistant and flame retardant properties. Coupled with our range of lectern frames in either oak or galvanised and powder-coated steel or vertical display frames in regular 'A' sizes (A0 to A3) means we can cater for all traditional and modern sign projects.
This page aims to provide a background to some of the recent designs and interpretive boards we have produced. It covers both large and small projects of varying levels of complexity – for a no-obligation quote or estimate please send details of your project from the 'Contact Us' page.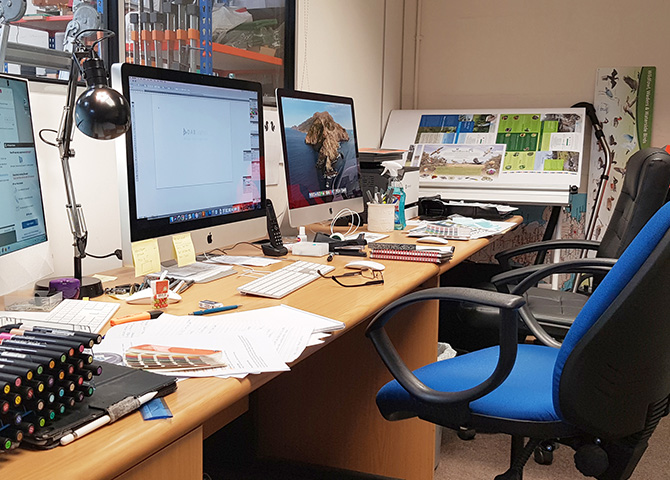 Just a few of our many customers