Recycled Plastic Lecterns, Pedestals, Fingerposts and Waymarkers
Lecterns, Pedestals, Vertical Signs, Waymarkers, Fingerposts
"Recycled plastic is a versitile material, allowing for straightforward build styles, easily routed with text and symbols, infilled with synthetic enamel paints to enhance the finished appearance."
Recycled plastic signs offer a practical solution to timber signs in being virtually maintenance free, making them ideal for areas where damp is an issue – such as woodlands and coastal walks – which can cause the timber to rot or become coated in green moss, which will lead to decay and is difficult to keep clean. Ideal in coastal locations as the plastic does not degrade in sea air.
The recycled plastic is made from 100% waste plastics and helps to reduce landfill and supports green initiatives. No staining or painting is required making them perfect for bridleways, cycle routes, nature trails, interpretation and heritage trails.
Our range includes: Lecterns and Pedestals, Fingerposts and Waymarker Posts, Ladder Signs and Trail Boards.
You may also want to look at:
Some Key Features:
Fully recyclable material
Maintance Free
Free from rotting or cracking
No insect infestation
Available in Brown or Black plastic
Routed text and symbols (including double sided)
Painted Infill
Modular assembly
No staining or painting required
Ideal alternative to hardwood where environment can be a problem
Posts and legs are constructed from 100mm x 100mm black or brown plastic. Directional pointers are 600mm x 130mm x 25mm, fingerposts can be multi-directional (only at 90° from post). Waymarker posts can have 3mm recesses on different faces.
Our recycled plastic lecterns, trail boards and pedestals are constructed in a similar style to our oak range, with removable picture frame for changing over display panels. Lecterns and pedestals are supplied with 18mm EHB (recycled plastic) backing boards, cross beams and anchors. Available in sizes A0, A1, A2 and A3. A1.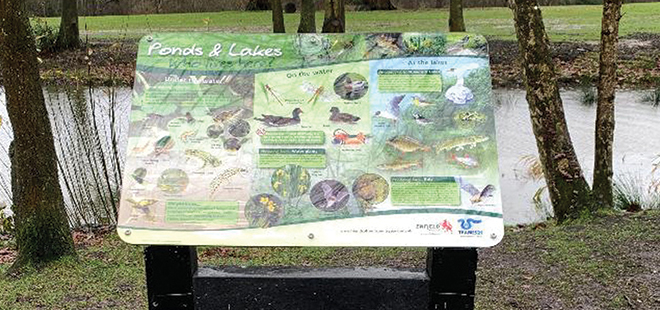 Just a few of our many customers