Waymarkers and Directional Discs
Waymarkers Posts, Directional Discs, Rubbing & Nature Trail Discs
"Weather a woodland walk or children's activity trail we can provide the ideal waymarker solution." From a simple coloured arrow disc to full waymarker post with routed text, colour bars and inlaid trail markers available in a range of materials and finishes to help keep your visitors on the right track.
Our oak posts are sourced from a local FSC registered timber mill and are cut to order with a 4 way weather or single angle cut. As oak ages they will become silver in appearance, not only looking great but also enhancing the natural environment around them.
As an environmentally friendly option we can supply waymarker post in 100% Recycled Plastic, which helps to reduce landfill and supports green initiatives. 
Our range of waymarker posts and directional discs can be fully customised to suit any site location. FSC Oak, pressure-treated softwood or recycled plastic they can include logos, routed directional arrows and text, wildlife symbols along with coloured insert graphics and recessed rubbing discs for fun activities trails.
You may also want to look at:
Fingerposts
Graphic Design
Quote me for this type
We also offer a range of Hazard posts and monoliths for dangerous sites such as deep-water quarries and other high-risk locations. The oak monoliths have an insert information panel with safety details direct printed on them from our full range of safety graphics.
Key Features:
Solid and robust posts in all materials
Bright, Colourful and attractive designs
Fully customised to your requirements
Hand finished with hardwearing synthetic enamel paint
Standard 1.5m long posts
Waymarker Discs
Waymarkers discs are available in a range of materials, shapes and sizes to suit all requirements, from standard 76mm circular to square or even bespoke cut out shapes. ACM (Dibond) is our most popular requested material, full colour direct printed or adhesive vinyl with anti-graffiti film to face, with 2 or 3 pre-drilled holes and offers a good life span.
Flexible Styrene (PVC) ideal for use where an existing curved post or pole is on the route of the trail, direct printed.
GRP (fibreglass) ideal for use exposed environments offering high durability. Foamex is a cost effective material and can be direct printed. QR codes can be included on all the material listed above. Laser etched stainless steel plaques, discs or panels available with our in-house CO2 laser.
---
Rubbing Discs & Plaques
Zinc rubbing discs and plaques are a great way to make nature trails and wildlife parks far more interesting and interactive for both children and adults alike. Allowing visitors to not only follow a route but making it a great family actively and helping to keep them interested in nature and heritage. Used in conjunction with our activity rubbing sheets helps to keep the trail fun and get children outdoors.
These can be mounted on all our waymarker posts with other routed designs and painted infill to complete your nature trail solutions. We have available a large selection of unique wildlife images which include Birds, Animals, Insects, Pondlife, Plants and Tree leaves including animal footprints.
No sharp edges, different coloured backgrounds, drill holes included, braille if required, these aspects make our rubbing discs distinctive.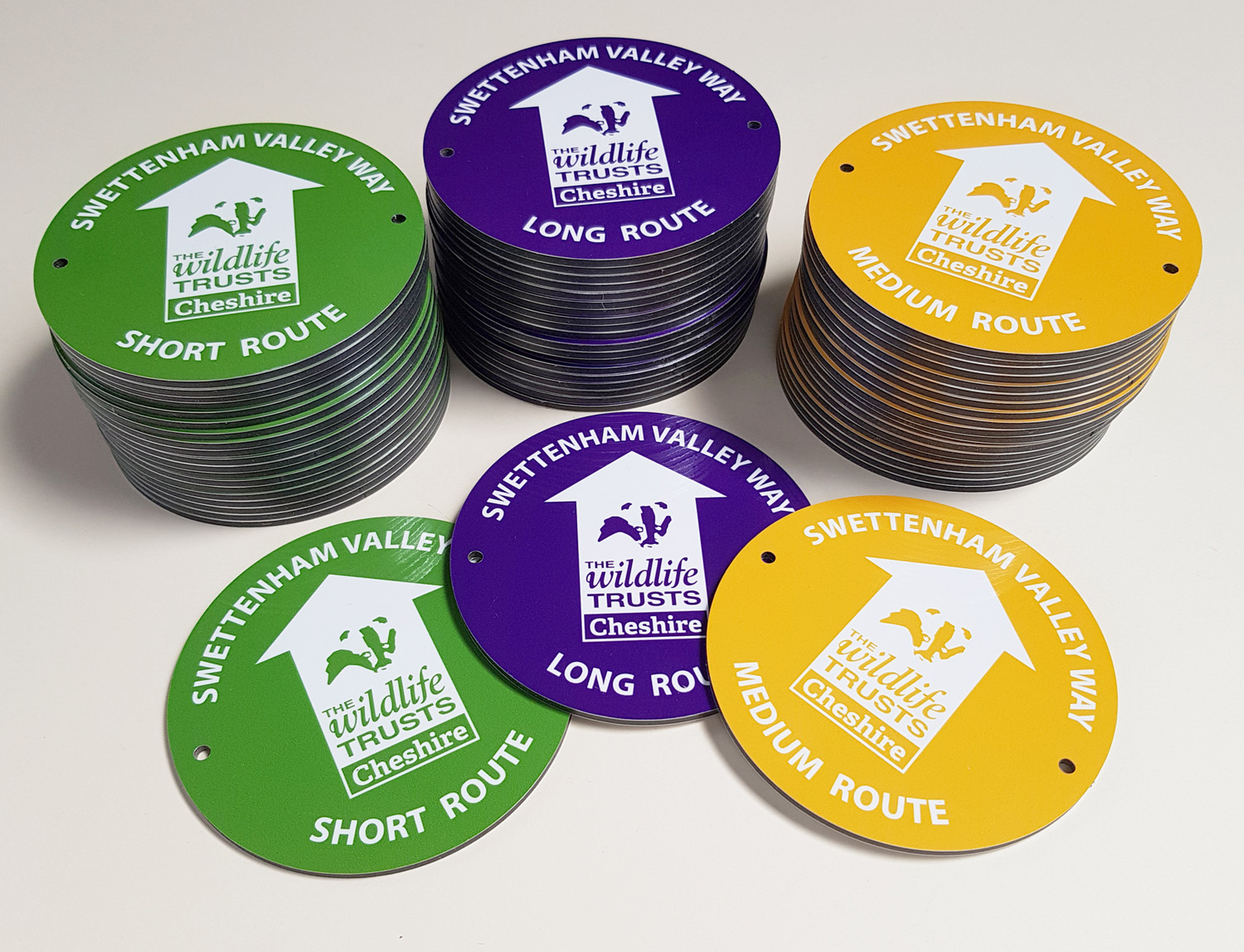 Just a few of our many customers